For fabric inquiries please CALL or TEXT 214-797-0393 or email info@suzzettsfabric.com
We are open Thursdays 6:00 to 9:00 pm for Sit and Sew except for Thanksgiving Day.
Complete your Christmas projects on Thursdays and Saturdays in the shop.
Free Shipping Order Over $100
10% off orders 25.01 - 150.00, 15% off orders 150.01 - 350.00, 20% off order 350.01 - 750.00, 25% off orders over 750.
Join us every Wednesday from 10 to Noon and Thursday from 6 to 9 for "Sit and Sew."
Fabric yardage is priced per half yard unless noted otherwise.
OR
Find a product from the All Fabric by Manufacture or Fabric Type links



Closed Sunday and Monday
Open Tue. Wed. & Fri. 9 to 5
Thurs. 9 to 9
Sat. 9 to 3
Free Shipping Order Over $100
10% off orders 25.01 - 150.00
15% off orders 150.01 - 350.00
20% off order 350.01 - 750.00
25% off orders over 750.
Discounts apply to
In Stock Merchandise.

All Fabric by Manufacture or Fabric Type


Fabric by Collection Name
REDUCED PRICE Fabric CLICK HERE


Sign up for Newsletter HERE
New Moda Scrap Bags

Free Pattern.
Honor a Veteran today. Patriotic Products!

New Kit available.
New Arrivals
Row By Row 2016 block is available online.

Row by Row 2017 shop only to 9/6/17.
Online 11/1/17

Row by Row Junior 2017 shop only to 9/6/17.
Online 11/1/17


Row by Row 2017 9th Row shop only to 9/6/17.
Online 11/1/17
Won't you be my
Moda Neighbor!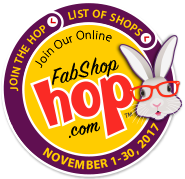 The November Fabshophop Bunny is shopping for
Christmas Fabric


FREE Pattern CLICK HERE
Sign up for Newsletter

Women of the Bible
CD Pattern is IN STOCK.
Click the quilt picture
below for details.


Sales
Block of the Month
Quilt Kits
Specialty Precuts
Honey Combs
Moda Candy
Charm Packs
Jelly Rolls
Layer Cakes
Turnovers
Honey Buns
Dessert Rolls
Fat Quarter Bundles
Villa Rosa Design card patterns
Holiday Fabric
Patterns
Notions
Books

FabShopHop Patterns
and Kits such as the
Celebration Sampler
are available.
Just click the Celebration quilt picture.


Fabric by Fabric Type Marbles Blenders and Basics Florals Batiks Asian Novelty - Animals - Hobbies Texas Fabric Patriotic Western Southwestern Holiday/Seasonal/Christmas Solids White on Whites Color Groupings Reproduction Redwork Fabric and Patterns
Flannels and Chenille Polyester Cuddle

Fabric by Manufacturer
Moda
ADORNit
Anthology
Avlyn
Benartex and Kanvas Studios
Blank Quilting
Clothworks
Camelot Design Studios
Ellen Medlock Studios Free Spirit
Fresh Water Designs
Henry Glass & Co.
Hoffman
In the Beginning
Island Batik
Lakehouse
Maywood Studio
Merrivale Batik
Michael Miller Fabric
New Castle
Northcott
Paintbrush Studio
P&B Textiles
Print Concept
Red Rooster
Riley Blake Designs RJR
Shannon Cuddle
Spectrix
Studio E
Timeless Treasures
Treasures by Shabby CHIC Wilmington Prints and Insights Fabric
Windham



Extras
Sale Fabric

Gifts for the Home

"Suzzett's Fabric Blog"



Free Pattern with every purchase!
Free Instructions for
Stonehenge Wall-hanging
CLICK HERE

Click the Reindeer to see the fabric.


APQ 1 Million
Pillowcase Challenge
Learn More Here!
Binding Basics PDF document

Rejoice in the Lord always: and again I say, Rejoice.







Suzzett's Fabric is located just outside of Italy, Texas approximately 40 miles south of Dallas. Google map and directions are available on the

About Us Link.

Shop hours are 9:00 to 5:00 Tuesday through Friday. We are open each Saturday in November. Thursday's through the rest of the year we will be open until 9:00 p.m. for Sit and Sew. If for any reason we are closed, we will post the closure at the side of the website. We can schedule after hour shopping by appointment to accommodate your work schedule. Occasionally we must close during the posted shop hours. Remember when we are closed a notice will be posted at the side of the website. Call 214-797-0393 for appointment for after hours shopping.

Please call or text 2147970393 for questions about products found on the website or with any issues ordering fabric.

We will be open all Saturdays in November. Saturday hours are 9:00 a.m. until 3:00 p.m. Beginning in November we will be open on Thursdays 6:00 pm until 9:00 pm except for Thanksgiving Day for sit and sew. Time to get those Christmas gifts completed.


We will be closed on Mondays beginning 11/6.



Click

HERE

to learn more about the Row by Row event on the Row by Row website. One complementary pattern is available from each Row by Row Participating shop when you shop inside the shop. Online patterns and kits are available after Nov. 1st.

Row by Row Experience 2017 program is June 21st through the Tuesday after Labor Day, September 5th. We are excited to participate this year in the Row by Row Experience Jr and the 9th Row program this year. The theme for the Row by Row Experience for 2017 is On the Go. Expect to see all kinds of moving machines, flying machines, moving people and moving animals. I love watching Hot Air Balloons GO High in the sky so this year my row is a vertical row of three Hot Air Balloons. I have already seen a few other shops with hot air balloons in Texas so expect to see more hot air balloon blocks. I will tell anyone who ask that I love to piece my quilt blocks. My Hot Air Balloon is pieced with just a tiny bit of applique to anchor the balloon to the basket.