Suzzett's Fabric is located just outside of Italy, Texas approximately 40 miles south of Dallas. Google map and directions are available on the
About Us Link.
You can shop on the internet anytime. Your online order will usually ship within 2 working days.
Postage rates updated 1/28/19
We are now closed as of May 24 5:00 pm at which time we plan to retire from FULL TIME shop keeping.

After a break for summer vacation, I will catchup on quilting all my quilts and begin quilting for the public. We will also host day retreats and open sewing times beginning in September.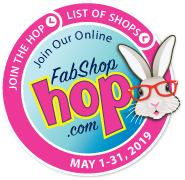 The Bunny is checking out the fabric in the shop.
HERE
. Retirement starts 5/24/19 at 5 pm. The shop is now closed until Mid July. You can still collect your fabshop bunny with the clue through the end of May.
The past 11 years have been an adventure that we have thoroughly enjoyed. Building a business from the ground up has made me realize more time and effort than I ever imagined is required to make a small family business thrive. My family has enjoyed offering beautiful fabric to folks who love creating beautiful quilts. We have loved meeting and helping many customers learn to sew and quilt as well as develop their own quilting style. Lindsey and I will continue to quilt and sew with local quilters and enjoy quilting for others when requested to do so.
I have created a
Facebook page that will let you know what is happening in the shop.
Click the Facebook Symbol and begin following Suzzett's Fabric Facebook page.

Sign up for Newsletter
By submitting the newsletter form, you agree to receive email marketing from Suzzett's Fabric, Quilts and more, LLC. Thank you in advance.