Fabric yardage is priced per half yard unless noted otherwise.
OR
Find a product from the All Fabric by Manufacture or Fabric Type links



All Fabric by Manufacture or Fabric Type

Fabric by Collection Name
Free Stocking Stuffers Free Christmas themed Mini Charm Pack on all orders.
and

Free Fat Eight

Order 15.00 - 25.00 OR


Free Fat Quarter

Order 25.01 - 50.00 OR


Free Mini Charm

Order 50.01 - 75.00 OR


Free Charm Pack

Order 75.01 - 125.00 OR


Free Scrap Bag

Order $125.01 - $200.00 OR


Free Jelly Roll

Order over $200.00


All Free items are our choice for your order.


No Coupon required.

Free Pattern.
Honor a Veteran today. Patriotic Products!

New Arrivals
Row By Row 2016 block is available.
Won't you be my
Moda Neighbor!

The Fabshophop Bunny is shopping for Jelly Rolls.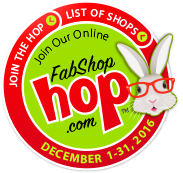 Moda Scrap Bags
FREE Pattern CLICK HERE
Sign up for Newsletter

Women of the Bible
CD Pattern is IN STOCK.
Click the quilt picture
below for details.


Sales
Updated

Coming Soon
Block of the Month
Quilt Kits
Specialty Precuts
Honey Combs
Moda Candy
Charm Packs
Jelly Rolls
Layer Cakes
Turnovers
Honey Buns
Dessert Rolls
Fat Quarter Bundles
Villa Rosa Design card patterns
Holiday Fabric
Patterns
Notions
Books

FabShopHop Patterns
and Kits such as the
Celebration Sampler
are available.
Just click the Celebration quilt picture.


Fabric by Fabric Type Marbles Blenders and Basics Florals Batiks Asian Novelty - Animals - Hobbies Texas Fabric Patriotic Western Southwestern Holiday/Seasonal/Christmas Solids White on Whites Color Groupings Reproduction Redwork Fabric and Patterns
Flannels and Chenille Polyester Cuddle

Fabric by Manufacturer
Moda
ADORNit
Anthology
Avlyn
Benartex and Kanvas Studios
Blank Quilting
Clothworks
Camelot Design Studios
Ellen Medlock Studios Free Spirit
Fresh Water Designs
Henry Glass & Co.
Hoffman
In the Beginning
Island Batik
Lakehouse
Marcus Brothers
Maywood Studio
Merrivale Batik
Michael Miller Fabric
New Castle
Northcott
Paintbrush Studio
P&B Textiles
Print Concept
Red Rooster
Riley Blake Designs RJR
Shannon Cuddle
Spectrix
Studio E
Timeless Treasures
Treasures by Shabby CHIC Wilmington Prints and Insights Fabric
Windham



Extras
Sale Fabric

Gifts for the Home

"Suzzett's Fabric Blog"



Free Pattern with every purchase!
Free Instructions for
Stonehenge Wall-hanging
CLICK HERE

Click the Reindeer to see the fabric.


APQ 1 Million
Pillowcase Challenge
Learn More Here!
Binding Basics PDF document

Rejoice in the Lord always: and again I say, Rejoice.



Free Stocking Stuffers


12/8 -12/110 Free Christmas Themed Mini Charm Pack on all orders.
and
Free Fat Eight

for Order $15.00 - 25.00 OR

Free Fat Quarter

for Order $25.01 - $50.00 OR

Free Mini Charm

for Order $50.01 - $75.00 OR

Free Charm Pack

for Order $75.01 - $125.00 OR

Free Scrap Bag

for Order $125.01 - $200.00 OR

Free Jelly Roll

for Order over $200.00

All Free items are my choice for your order.

We sell quilt shop quality fabric purchased directly from the manufacturer or one of their direct distributors such as Checkers or EE Schenck. Fabric and precuts are 100% cotton unless noted otherwise on the product description. Minky type fabric is polyester.



Suzzett's Fabric is located just outside of Italy, Texas approximately 40 miles south of Dallas. Google map and directions are available on the

About Us Link.

Shop hours are 9:00 to 5:00 Monday through Friday. Saturday we are open for special events and/or by appointment. If for any reason we are closed, we will post the closure at the top of the website. We can schedule after hour shopping by appointment to accommodate your work schedule. Occasionally we must close during the posted shop hours. Remember when we are closed a notice will be posted at the top of the website. Call 214-797-0393 for appointment for after hours shopping.

Please call or text 2147970393 for questions about products found on the website or with any issues ordering fabric.

Moda "Be My Neighbor Quilt-Along" began Sept. 5 2016.

Every Monday Sept 5th through December 19th a new Moda "Be by Neighbor Quilt-Along" block pattern will be posted to our website and the Suzzett's Fabric Facebook Page.

Join the fun and obtain your weekly block pattern

HERE.

Monthly Block of the month information for the Suzzett's Moda'Hood kit is also available

HERE.

Row by Row 2016 theme of Home Sweet Home has been an adventure. You can continue the adventure by purchasing 2016 Row by Row kits, patterns and License Plates. We also have back by popular demand our Rainbow Heart block from Row by Row 2015. 2015 License Plates are also available as well as the Braggin Pole patterns by Patch Abilities. Just click the button to order Row by Row products.


Pictured below is one of the 9th Row kits available from the Home Sweet Home Row by Row Experience along with the Suzzett's Fabric "Home Sweet Home" themed block. The 9th Row kit is available online as well as in the shop. The 9th row pictured

was made with the Charm Pack "Eat your Fruits and Veggies" by Pat Sloan. 25% of the proceeds from the sell of the kits are donated to the local food pantry. All Row by Row Kits are available only in the shop and online! A free 9th Row pattern is also available in the shop with a request for a donation to our local food pantry.

I designed our Home Sweet Home themed block thinking of the farmhouse where I grew up outside of Avoca, Texas. The house represents the very old farm house I grew up in. The clothes line with the wandering chickens are one of my fondest memories of our old home place. The barn makes me think of all the times we played in the old shed where we gathered the chicken eggs and fed the chickens from the maize bin.

Most of the Home Sweet Home row is pieced with an option to applique or piece the clothes line section of the row.

The Row Plate for this year supports my row theme. The TX FARM QUILTS plate is available.

Jelly Rolls

|

Charm Packs

|

Layer Cakes

|

Turnovers Honey Buns

|

Dessert Rolls

|

Fat Quarter and Fat 8 Bundles Moda Honey Comb

|

Moda Slice

|

Moda Candy Free Charm Tote Bag Link HERE

We now have a quilting circle that meets every Wednesday morning from 10:00 a.m. to 12 noon here at the shop's sewing studio during the school year. Come and join the fun. Beginner instruction is available for those that want to learn to piece quilt squares. Experienced quilters come on in and work on your UFOs. The shop is located at 200 Hamrock Rd. just outside of Italy, Texas.

Here is the

binding basics tutorial document

I created for our Wednesday quilting group. You are welcome to download the document. Feel free to call me with any questions.

Moda Scrap Bags

Quilt Camp

by Barbara Jones of Quilt Soup for Henry Glass is now in stock with a fun quilt panel and coordinating yardage.

Hey Dot fabric by Zen Chic for Moda

has arrived. Along with the Hey Dot fabric yardage is Hey Dot Precuts, patters for the fabric and coordinates from the Modern Background prints also by Zen Chic.

Vintage Picnic fabric by Bonnie and Camille is now in stock.

Fabric yardage, the boxed Summerville Quilt Kit and pre-cuts are available. The newest fabric to arrive has been added to the

New Arrivals Link. More fabric will be added soon.

I am a bit behind in getting the newest fabric added to the new arrival link.

Be sure and check out all the

New Arrivals.

Women of the Bible CD is IN STOCK. Order by clicking the picture below.

Click HERE to see all fabric by Manufacture or fabric type.
Click to see all fabric by fabric collection name Category links can also be found on the left of the screen.


The Product Search field is located at the top of each screen or you canto search for a product by fabric collection name, designer name, fabric color or fabric product code.

New fabric

is always arriving to our country quilt shop. We now have over 2700 bolts of fabric and a shop packed full of precuts.

It is time to get ready for the holidays. I love the Do You See What I see Christmas fabric. A Book panel and an Advent panel are both available.

You can find more Christmas fabric on the

Winter fabric Link.

I have documented a few hints for creating the Stonehenge Christmas Panel Wall-hangings.

Just click HERE to open the free document.

You determine the size and style of the wall-hanging.

All the fabric for the Stonehenge Christmas fabric can be found

HERE.

There are a few green Prance panels left. The pictures represent what the panels would look like for those who ordered the panels.

Check out Suzzett's Fabric Blog

for ideas on what to do with the

Joy Christmas Panel.

I have created a

Facebook page that will let you know what is happening in the shop.
Be sure to click the Suzzett's Fabric link to the right of the follow button to link to Suzzett's Fabric Facebook page and get the updates.





All Promotions and discounts apply to in stock products only. Items that are on pre-order or have to be special ordered do not qualify for discounts or special promotions. Sign up for Newsletter

Newsletter participants are automatically eligible for the monthly drawing for a bundle of fabric.

Orion Star Kit uses Marbles from Moda. The picture of the fabric in the kit will vary only slightly with each kit.

You can watch the how to video on the

AdornIt Website Video link

to see how to make this fun pillow. You can also find written instructions for the AdornIt Love Knot Pillow

HERE.

Click the AdornIt picture below to see what AdornIt fabric is in stock.

Shoppers be sure and check out all of the sweet treats in

Suzzett's Moda Bake Shop. Jelly Rolls

|

Charm Packs

|

Layer Cakes

| <!—ENTRY END -->

Honey Buns

|

Turnovers

|

Fat Quarter Bundles

|

Gift Certificates available by phone order.

Call 214-797-0393 to place an order for a personalized gift certificate.