Fabric yardage is priced per half yard unless noted otherwise.






All Fabric by Manufacture or Fabric Type

Fabric by Collection Name
Closed Sun, and Mon.
Open Tue. through Fri.
9 to 5
Come Sit and Sew
Wed. 10-2

Open Thurs. 6 to 9
for Sit and Sew Open Sat. 9 to 2


National Quilting Day 3/17
20% off orders over $25.00
Through 3/31/18.


In Stock Products Only



Sign up for Newsletter HERE
Closed the following dates.
Close at 3 pm Fri 3/16.
Closed Sat. March 17th

Suzzett's Calendar
Free Pattern.
Honor a Veteran today. Patriotic Products!

New Kit available.
New Arrivals

Row By Row 2017 block is now available online.
Won't you be my
Moda Neighbor!
REDUCED PRICE Fabric CLICK HERE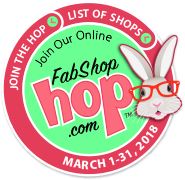 The March Bunny is
searching for Batiks.


Find FabShopHop Patterns
and Kits such as
the Fun-A-Faire kit HERE.


New Summer Breeze Fabric can be found HERE

FREE Pattern CLICK HERE

Women of the Bible
CD Pattern is IN STOCK.
Click the quilt picture
below for details.


Sales
Block of the Month
Quilt Kits
Specialty Precuts
Honey Combs
Moda Candy
Charm Packs
Jelly Rolls
Layer Cakes
Turnovers
Honey Buns
Dessert Rolls
Fat Quarter Bundles
Villa Rosa Design card patterns
Holiday Fabric
Patterns
Notions
Books

FabShopHop Patterns
and Kits such as the
Celebration Sampler
are available.
Just click the Celebration quilt picture.


Fabric by Fabric Type Marbles Blenders and Basics Florals Batiks Asian Novelty - Animals - Hobbies Texas Fabric Patriotic Western Southwestern Holiday/Seasonal/Christmas Solids White on Whites Color Groupings Reproduction Redwork Fabric and Patterns
Flannels and Chenille Polyester Cuddle

Fabric by Manufacturer
Moda
ADORNit
Anthology
Avlyn
Benartex and Kanvas Studios
Blank Quilting
Clothworks
Camelot Design Studios
Ellen Medlock Studios Free Spirit
Fresh Water Designs
Henry Glass & Co.
Hoffman
In the Beginning
Island Batik
Lakehouse
Maywood Studio
Merrivale Batik
Michael Miller Fabric
New Castle
Northcott
Paintbrush Studio
P&B Textiles
Print Concept
Red Rooster
Riley Blake Designs RJR
Shannon Cuddle
Spectrix
Studio E
Timeless Treasures
Treasures by Shabby CHIC Wilmington Prints and Insights Fabric
Windham



Extras
Sale Fabric

Gifts for the Home

"Suzzett's Fabric Blog"



Free Pattern with every purchase!
Free Instructions for
Stonehenge Wall-hanging
CLICK HERE

Click the Reindeer to see the fabric.


APQ 1 Million
Pillowcase Challenge
Learn More Here!
Binding Basics PDF document

Rejoice in the Lord always: and again I say, Rejoice.



Pictured below is the Moda Be My Neighbor Quilt-Along quilt for Suzzett's Neighborhood Quilt along. The quilt pictured was completed using Bonnie and Camille fabric and a few other Moda fabrics. The full quilt kit is now available. Purchase of the kit will include a copy of all patterns as well as fabric for the front of the quilt.


Suzzett's Moda'Hood Quilt-Along Kit with pattern
Quantity in Basket: None
Code: NeigborhoodQuiltAlong
Price:

$169.99





Fabric yardage is priced per half yard unless noted otherwise.


Moda "Be My Neighbor Quilt-Along" Kit is now available. Price includes the cost of the pattern, the quilt kit fabric for the blocks, background fabric, sashing, and borders.



The Suzzett's Moda'Hood Quilt-Along Kit includes the block pattern and coordinating fabric for all 16 blocks packaged individually. Background fabric for the entire front of the quilt will be included as well for kit. Some blocks require two to three Fat 8s as well as a bit of other fabric. You will receive the fabric required for each block in the form of Fat 8's with a few larger or smaller cuts as well.

Background, sashing and border fabric for the project is 5 3/4 yards of a light fabric from one of the Moda Muslin Mate prints. Binding requirement is 2/3 yard and backing requirement is 4 3/4 yards for the quilt that measures approximately 68 by 84 1/2 inches when completed with the setting instructions provided.

You can also build your own Moda Neighborhood quilt with a Fat 8 Bundle of the 2016 Grunge fabric by BasicGrey as well as a few extra Grunge Fat 8s or fat quarters to complete the quilt.  The Grunge Fat 8 bundle includes 30 new colors for 2016. You can order the Grunge Neighborhood Kit found in the Related products below. The Grunge kit will include the Grunge background required for your kit. Note: About half of the Grunge fabrics used in the Blocks pictured at the top of the page are included in the kit. The remainder of the fabric is very similar in color and is included in the Fat 8 Grunge bundle. You get to pick and choose which fabric you want to build your personal neighborhood. You will have plenty of fat 8s from the bundle for another project. The Background and border fabric included in the Grunge Kit is the same as was used in the pictured quilt above.






HINTS




Hint for Block 2: This is a scrappy quilt. You want to cut your fabric pieces sparingly if you are using Fat Eights so you can use the fabric again in another block. Also remember the saying "measure twice cut once" for cutting the blocks. Being distracted can really mess up a good plan.

Hint for Block 3: This is your quilt Neighborhood. Embellish the blocks as desired. I will be adding window treatments to the windows along the way as I collect leftover fabric pieces from other blocks.

Hint for Block 4: Here is the deal for my block 4. I need a church for neighborhood so I have created a stained glass window and am adding a cross to the top of the church. As soon as I finish sewing the quilt together, you will see how my neighborhood now has a church. Block four uses pieces from block 2 as well as a bit of the green ombre fabric.

Hint for Block 5: I tried making block 5 with just one fabric for the house front and the top of the house under the roof but just did not think the roof showed up as nicely. Instead I used the aqua floral print for the house front under the roof. The house pattern calls for 2-5" squares for the front of the house right under the roof. This is where I used the aqua floral.

Hint for Block 6: I found that for this block I needed a bit of contrasting fabric for what to me looks like the porch since I chose a small print for the front of the house. I then chose the small floral print as a field of flowers. For the window treatment I used a quarter to create a rounded edge on the valance.

Hint for Block 7: For the wings on the flying geese I ended up using the background fabric. I originally used a small print for the wings but thought the print just did not show the flying geese blocks as well.

Hint for Block 8: Block 8 was a fun block to add curtains to. I actually unsewed the block at the top of the windows to add my curtains since I used fabric from Block 9 for my curtains. To make the curtains cut a rectangle approximately 4 3/4 by 2 1/2 inches for each window. Fold the fabric right sides together along the long edge and stitch the two short ends using a 1/4 inch seam. Turn the unit inside out and press before adding a gathering stitch 1/4 inch from the un-sewn edge. Gather the curtain to the 3 inch width. I placed the curtain against the top of the window and sewed along the gathering stitch. Sew the windows back together.

Hint for Block 9: Block 9 looks like a castle to me. Each bow tie block requires two 1 1/4 inch squares. Accurate cutting and piecing are very important for small block units. Sew with a smaller needle and thinner thread for best results.

Hint for Block 10: Each row has a tree block. Switch up the tree trunk if you like. Add a bit of bling to the bluebird's eye for fun.

Hint for Block 11: Block 11 is a blank canvas for you to color your camp block anyway you like from fabric leftovers from previous blocks and a bit of new fabric. If you are using the fabric provided, save enough of the red fabric for your sail boat block 14.

Hint for Block 12: The Red floral print for block was used as the top of the roof of block 15. Resereve 14 by 7 inch rectangle for block 15 if you would like the same fabric.

Hint for Block 13: For block 13, I suggest you take a picture of the block with the fabric you want to use to see how it will look. I actually resewed the block at least three times. I think the problem was that I could not decide if the block was a lighthouse or a beach house.

Hint for Block 14: The instructions for the sail on the block are for non-directional fabric. I used a directional fabric. If your fabric is directional, you will need cut two squares of the sail fabric.

Hint for Block 15: Use your favorite method to make the center pinwheel for the block. I prefer to cut the squares 4 1/4 inch, mark a diagonal line and sew on each side of the diagonal for each unit. I then sew the four half square triangles together and trim the pinwheel block to measure 6 1/2 inches.

Hint for Block 16: Use small print fabric for the window at the top of the house since this is a really small window. Use fabric from other blocks to complete this final block for a scrappy look.












Related Item(s)


| | | | |
| --- | --- | --- | --- |
| Code | Name | Image | Price |
| 30150F8N2 | Grunge Basics 9 by 22 Fat 8 Bundle 30 pieces | | $53.99 |
| 9930-11 | Moda Muslin Mates Falling Snow on White | | $4.95 |
| 9920-11 | Muslin Mates Swirls White | | $4.95 |
| 11048-11 | Muslin Mates White on White 108 inch Wide | | $8.50 |
| 9918-11 | Muslin Mates Vine White | | $4.95 |
| 9900-97 | Bella Solids Bleached White PFD | | $3.35 |
| 9900-98 | Bella Solids White | | $3.35 |
| 55134-17 | Little Ruby Cream Dots 55134 17 | | $5.45 |
| 9900-182 | Bella Solids Porcelain | | $3.35 |
| BeMyNeighborGrungeKit | Moda Be My Neighbor Grunge Kit | | $169.99 |


Here is a little more inspiration for you. Make your blocks really scrappy. The instructions give clear guidance for cutting each block element. You can use as many different fabrics as you like in your blocks. There are Fat Quarter and Fat 8 bundles in the related products for inspiration.



Here are finishing instructions to complete your quilt. Block 1 Pattern Link Block 2 Pattern Link Block 3 Pattern Link Block 4 Pattern Link Block 5 Pattern Link
Block 6 Pattern Link
Block 7 Pattern Link
Block 8 Pattern Link
Block 9 Pattern Link
Block 10 Pattern Link
Block 11 Pattern Link
Block 12 Pattern Link
Block 13 Pattern Link
Block 14 Pattern Link
Block 15 Pattern Link
Block 16 Pattern Link




Sign up for Newsletter