OR
Find a product from the All Fabric by Manufacture or Fabric Type links



Order Gift Certificates HERE

Free Shipping USA
Order Over $100

Closed Sunday and Monday
Open Tue. Wed. & Fri. 9 to 5
Thurs. 9 to 9
Sat. 9 to 3 12/30.
Closed Sat. 1/6/18.

Got To Go Fabric SALE
Click for 15% off HERE.


All Fabric by Manufacture or Fabric Type


Fabric by Collection Name
REDUCED PRICE Fabric CLICK HERE


Sign up for Newsletter HERE
New Moda Scrap Bags

Free Pattern.
Honor a Veteran today. Patriotic Products!

New Kit available.
New Arrivals
Row By Row 2016 block is available online.

Row by Row 2017 shop only to 9/6/17.
Online 11/1/17

Row by Row Junior 2017 shop only to 9/6/17.
Online 11/1/17


Row by Row 2017 9th Row shop only to 9/6/17.
Online 11/1/17
Won't you be my
Moda Neighbor!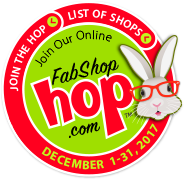 The December Fabshophop Bunny knows that Suzzett has no room for fabric that is due to arrive in Janauary. Click the
Got To Go link HERE for 15% off.


FREE Pattern CLICK HERE
Sign up for Newsletter

Women of the Bible
CD Pattern is IN STOCK.
Click the quilt picture
below for details.


Sales
Block of the Month
Quilt Kits
Specialty Precuts
Honey Combs
Moda Candy
Charm Packs
Jelly Rolls
Layer Cakes
Turnovers
Honey Buns
Dessert Rolls
Fat Quarter Bundles
Villa Rosa Design card patterns
Holiday Fabric
Patterns
Notions
Books

FabShopHop Patterns
and Kits such as the
Celebration Sampler
are available.
Just click the Celebration quilt picture.


Fabric by Fabric Type Marbles Blenders and Basics Florals Batiks Asian Novelty - Animals - Hobbies Texas Fabric Patriotic Western Southwestern Holiday/Seasonal/Christmas Solids White on Whites Color Groupings Reproduction Redwork Fabric and Patterns
Flannels and Chenille Polyester Cuddle

Fabric by Manufacturer
Moda
ADORNit
Anthology
Avlyn
Benartex and Kanvas Studios
Blank Quilting
Clothworks
Camelot Design Studios
Ellen Medlock Studios Free Spirit
Fresh Water Designs
Henry Glass & Co.
Hoffman
In the Beginning
Island Batik
Lakehouse
Maywood Studio
Merrivale Batik
Michael Miller Fabric
New Castle
Northcott
Paintbrush Studio
P&B Textiles
Print Concept
Red Rooster
Riley Blake Designs RJR
Shannon Cuddle
Spectrix
Studio E
Timeless Treasures
Treasures by Shabby CHIC Wilmington Prints and Insights Fabric
Windham



Extras
Sale Fabric

Gifts for the Home

"Suzzett's Fabric Blog"



Free Pattern with every purchase!
Free Instructions for
Stonehenge Wall-hanging
CLICK HERE

Click the Reindeer to see the fabric.


APQ 1 Million
Pillowcase Challenge
Learn More Here!
Binding Basics PDF document

Rejoice in the Lord always: and again I say, Rejoice.





Woof Woof Meow is the Fall 2017 release of dolls by Stacy Iest Hsu just in time for Christmas. Both the cat the dog panels are available as well as a bit of yardage and jelly rolls as well as fun long dog pattern.

Stacey Iest Hsu's first fabric collection for Moda was Lil Red. Lil Red is a sweet fabric collection perfect for little girls of course the theme is Little Red Riding Hood. The Lil Red panel will make a doll, a quilt and pillow for the doll as well as a sweet good little wolf. Coral Queen of the Sea fabric collection also has a panel to make a doll, quilt, pillow and a seahorse doll. The next fabric from Hsu was the Farm Friends fabric. The Farm Friends panel with four farm animals with two babies each. Fabric coordinates for Farm Friends is also avialable. I love the Walking in the Woods fabric panel and coordinating fabric with two Hansel and Gretel inspired dolls. The Spring Bunny Fun Panel is great as Easter gifts for your sweeties. Howdy Dolls are now available with coordinating fabric. There is a Howdy Boy Panel and a Howdy Girl panel with a stick horse, a bandana and quilt for each Howdy Doll Panel. Fabric yardage and pre-cuts are available for many of the fabric collections with the Doll Panels available for all.

You can find the latest pictures of the Howdy doll panels by Stacy Iest Hsu on her website by clicking HERE.


Stacy Iest Hsu fabric by Moda



Be sure and signup for the newsletter from Suzzett's Fabric.

Sign up for Newsletter Here!