OR
Find a product from the All Fabric by Manufacture or Fabric Type links



Closed Sunday and Monday
Open Tue. Wed. & Fri. 9 to 5
Thurs. 9 to 9
Sat. 9 to 3
Free Shipping Order Over $100
10% off orders 25.01 - 150.00
15% off orders 150.01 - 350.00
20% off order over 350.00
Discounts apply to
In Stock Merchandise.

All Fabric by Manufacture or Fabric Type


Fabric by Collection Name
REDUCED PRICE Fabric CLICK HERE



New Moda Scrap Bags

Free Pattern.
Honor a Veteran today. Patriotic Products!

New Kit available.
New Arrivals
Row By Row 2016 block is available online.

Row by Row 2017 shop only to 9/6/17.
Online 11/1/17

Row by Row Junior 2017 shop only to 9/6/17.
Online 11/1/17


Row by Row 2017 9th Row shop only to 9/6/17.
Online 11/1/17
Won't you be my
Moda Neighbor!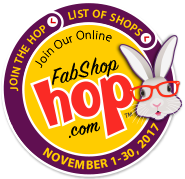 The November Fabshophop Bunny is shopping for
Christmas Fabric


FREE Pattern CLICK HERE
Sign up for Newsletter

Women of the Bible
CD Pattern is IN STOCK.
Click the quilt picture
below for details.


Sales
Block of the Month
Quilt Kits
Specialty Precuts
Honey Combs
Moda Candy
Charm Packs
Jelly Rolls
Layer Cakes
Turnovers
Honey Buns
Dessert Rolls
Fat Quarter Bundles
Villa Rosa Design card patterns
Holiday Fabric
Patterns
Notions
Books

FabShopHop Patterns
and Kits such as the
Celebration Sampler
are available.
Just click the Celebration quilt picture.


Fabric by Fabric Type Marbles Blenders and Basics Florals Batiks Asian Novelty - Animals - Hobbies Texas Fabric Patriotic Western Southwestern Holiday/Seasonal/Christmas Solids White on Whites Color Groupings Reproduction Redwork Fabric and Patterns
Flannels and Chenille Polyester Cuddle

Fabric by Manufacturer
Moda
ADORNit
Anthology
Avlyn
Benartex and Kanvas Studios
Blank Quilting
Clothworks
Camelot Design Studios
Ellen Medlock Studios Free Spirit
Fresh Water Designs
Henry Glass & Co.
Hoffman
In the Beginning
Island Batik
Lakehouse
Maywood Studio
Merrivale Batik
Michael Miller Fabric
New Castle
Northcott
Paintbrush Studio
P&B Textiles
Print Concept
Red Rooster
Riley Blake Designs RJR
Shannon Cuddle
Spectrix
Studio E
Timeless Treasures
Treasures by Shabby CHIC Wilmington Prints and Insights Fabric
Windham



Extras
Sale Fabric

Gifts for the Home

"Suzzett's Fabric Blog"



Free Pattern with every purchase!
Free Instructions for
Stonehenge Wall-hanging
CLICK HERE

Click the Reindeer to see the fabric.


APQ 1 Million
Pillowcase Challenge
Learn More Here!
Binding Basics PDF document

Rejoice in the Lord always: and again I say, Rejoice.





Please post your pictures of your completed blocks on our Suzzett's Fabric Facebook page.






Women of the Bible Fabric Kits
Quantity in Basket: None
Code: WOBClub
Price:

$0.00





Fabric yardage is priced per half yard unless noted otherwise.


The Women of the Bible Block program is now only available as a CD option which is $20.00 plus shipping. The weekly program ends mid October. The Disk is now available for order and is currently in stock. The CD is shown in the related products for those who are not purchasing a fabric kit for the blocks. The Women of the Bible quilt was designed by Teresa Coenen of Stitchin' Tree Quilts and consist of 40 blocks with a bit of information about each woman the block represents. Each block pattern includes an additional page for you to jot down your reflections on what inspired you about the block and related scripture. Additional setting block instructions and border instructions are also included on the disk.



Pictured above is an electronic view of the quilt in bright colors with two of the borders.

The quilt measures approximately 75 1/2 by 90 1/2 inches (full size) before borders are added. Adding the first border yields a 80 by 95 inch quilt. Adding the second border will produce a 90 by 105 (queen size) inch quilt while adding the final third border will yield a 110 by 125 inch (large king size) quilt.


CLICK HERE to view the quilt in a gray scale version with all three borders as well as the fabric requirements for the quilt.

Fabric was originally available for the 40 blocks and setting blocks in three colorways: Bright, Batik and 3 Sisters fabric from Moda. Coordinating border fabric will be available for each colorway. Choose from the drop down menu the fabric the that you would like to order for the Women of the Bible 40 blocks. Note the Batik and Bright fabric kits are sold out. I will cut a kit as close as possible to the original. To order the CD with all 40 blocks and the finishing instructions order the Women of the Bible CD listed in available products.

Pictures for three of the chosen fabric selections are posted below. The bright dark fabric selected provides a bit more contrast than the pictured bright quilt. A bit extra medium fabric prints are included if you want to choose to use some of the darker medium prints as a dark print for your quilt. I personally love having options.

The Bright fabric selection is primarily Fat Quarters with a few Fat 8's. The light fabric is 3/8 cuts of fabric. The 2nd picture of the Batik fabric shows the Fat Quarters that are used for all the fabric. (NOTE) The Batik Version will vary just a bit since I have sold out of the pictured version. The third picture is 3 Sister fabric that would be used for a 3 Sister fabric kit. There is really a bit more contrast in the fabric than what the picture shows. I have one 3 Sister kit left with just a slight variation from the pictured fabric.



Each fabric kit will include a variety of prints from each color value to make your quilt a bit scrappy.

You can also choose to order fat quarter or fat 8 bundles for your own quilt design. I recommend choosing a variety of fabrics to total 3 yards of tone on tone or small prints that are not to busy for your light value fabric to complement your fat quarter or fat 8 bundle. Suggested fat quarter bundles are shown as related products. We are happy to help you select fabric as well.









Related Item(s)


| | | | |
| --- | --- | --- | --- |
| Code | Name | Image | Price |
| 41012AB | Over The Rainbow Batiks Red Sunrise Fat Quarter Bundle 20 SKUs | | $65.00 |
| 17800AB | Red White Free Fat Quarter Bundle 34 skus | | $121.99 |
| 1000F8 | Puzzle Pieces 9 X 22 Cut Fat Eight Bundle (100 Skus) | | $111.99 |
| 10000F8 | Wrens Friends Fat8 Bundle 38 skus 1 bundle left | | $55.00 |
| WOBCD | Women of the Bible CD | | $20.00 |