OR
Find a product from the All Fabric by Manufacture or Fabric Type links



We will be vending at the
Corsicana Quilt Show
10/20 and 10/21
Closed 10/20 and 10/21

All Fabric by Manufacture or Fabric Type

10th Anniversary October Special CLICK HERE
ALL Precuts 10% off

Fabric by Collection Name
REDUCED PRICE Fabric CLICK HERE



New Moda Scrap Bags added 7/26/17

Free Pattern.
Honor a Veteran today. Patriotic Products!

New Arrivals
Row By Row 2016 block is available online.

Row by Row 2017 shop only to 9/6/17.
Online 11/1/17

Row by Row Junior 2017 shop only to 9/6/17.
Online 11/1/17


Row by Row 2017 9th Row shop only to 9/6/17.
Online 11/1/17
Won't you be my
Moda Neighbor!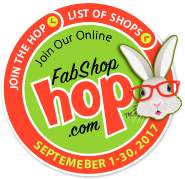 The November Fabshophop Bunny is shopping for
Christmas Fabric


FREE Pattern CLICK HERE
Sign up for Newsletter

Women of the Bible
CD Pattern is IN STOCK.
Click the quilt picture
below for details.


Sales
Block of the Month
Quilt Kits
Specialty Precuts
Honey Combs
Moda Candy
Charm Packs
Jelly Rolls
Layer Cakes
Turnovers
Honey Buns
Dessert Rolls
Fat Quarter Bundles
Villa Rosa Design card patterns
Holiday Fabric
Patterns
Notions
Books

FabShopHop Patterns
and Kits such as the
Celebration Sampler
are available.
Just click the Celebration quilt picture.


Fabric by Fabric Type Marbles Blenders and Basics Florals Batiks Asian Novelty - Animals - Hobbies Texas Fabric Patriotic Western Southwestern Holiday/Seasonal/Christmas Solids White on Whites Color Groupings Reproduction Redwork Fabric and Patterns
Flannels and Chenille Polyester Cuddle

Fabric by Manufacturer
Moda
ADORNit
Anthology
Avlyn
Benartex and Kanvas Studios
Blank Quilting
Clothworks
Camelot Design Studios
Ellen Medlock Studios Free Spirit
Fresh Water Designs
Henry Glass & Co.
Hoffman
In the Beginning
Island Batik
Lakehouse
Maywood Studio
Merrivale Batik
Michael Miller Fabric
New Castle
Northcott
Paintbrush Studio
P&B Textiles
Print Concept
Red Rooster
Riley Blake Designs RJR
Shannon Cuddle
Spectrix
Studio E
Timeless Treasures
Treasures by Shabby CHIC Wilmington Prints and Insights Fabric
Windham



Extras
Sale Fabric

Gifts for the Home

"Suzzett's Fabric Blog"



Free Pattern with every purchase!
Free Instructions for
Stonehenge Wall-hanging
CLICK HERE

Click the Reindeer to see the fabric.


APQ 1 Million
Pillowcase Challenge
Learn More Here!
Binding Basics PDF document

Rejoice in the Lord always: and again I say, Rejoice.






Easiest Handbags Ever pattern
Quantity in Basket: None
Code: FT-606
Price:

$8.50





Fabric yardage is priced per half yard unless noted otherwise.


Eaisest Handbags Ever by Fig Tree Quilts as seen in the April 2008 issue of American Patchwork and Qulting is a great pattern with 5 different fun handbags. Prairie Girl Bags calls for 7 fat quarters for the outside and 3/4 yard for the inside and 1/2 yard for fabric handles. Romantic Patchwork uses 1 charm pack, 1/4 yard of small cream, 1 cream floral fat quarter for the back, 5/8 for the inside, 1/2 yard for handles and 1/4 yard for binding. French Basket requires 3 fat quarters for the bag, 1/2 yd for the inside, 3/8 yd for handles and buttons, and 1/8 yard for binding. Little Patches lunchbag requires 1 charm pack, 1 fat quarter for the purse back, 1/2 yard for the inside and 1/2 yard for the handles and binding.