Most fabric is now priced and sold in continuous half yard units.
Product Catalog
All Fabric by Manufacture or Fabric Type


Sign up for Newsletter
now in effect!

New Arrivals UPDATED 11/26

Christmas Fabric SALE
Click HERE for 20% off!

Coming Soon

Free Instructions for
Starry Night Wall-hanging
CLICK HERE

Click the tree to see the fabric.

Moda Scrap Bags
Sales
Updated Frequently.

Use Promotion Code
KATESPAIN
to receive 10% off
select Kate Spain fabric.
Click HERE
for Select Kate Spain fabric on sale.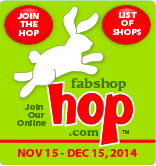 The Holiday FabShopHop Bunny is looking for Batik Precuts.
Block of the Month
Quilt Kits
Specialty Precuts
Honey Combs
Moda Candy
Charm Packs
Jelly Rolls
Layer Cakes
Turnovers
Honey Buns
Dessert Rolls
Fat Quarter Bundles
Villa Rosa Design card patterns
Holiday Fabric
Patterns
Notions
Books

FabShopHop Patterns
and Kits such as the
Celebration Sampler
are available.
Just click the Celebration quilt picture.


Enter Promotion Code CELEBRATION for 20% off the Celebration quilt kit.



Bright Hopes Sampler
Now Available


Fabric by Fabric Type Marbles Blenders and Basics Florals Batiks Asian Novelty - Animals - Hobbies Texas Fabric Patriotic Western Southwestern Holiday/Seasonal/Christmas Solids White on Whites Color Groupings Reproduction Redwork Fabric and Patterns
Flannels and Chenille Polyester Cuddle

Fabric by Manufacturer
Moda
ADORNit
Anthology
Avlyn
Benartex and Kanvas Studios
Blank Quilting
Clothworks
Camelot Design Studios
Ellen Medlock Studios Free Spirit
Fresh Water Designs
Henry Glass & Co.
Hoffman
In the Beginning
Island Batik
Lakehouse
Marcus Brothers
Maywood Studio
Merrivale Batik
New Castle
Northcott
Paintbrush Studio
P&B Textiles
Print Concept
Red Rooster
Riley Blake Designs RJR
Shannon Cuddle
Spectrix
Studio E
Treasures by Shabby CHIC Wilmington Prints and Insights Fabric
Windham



Extras
Sale Fabric

Gifts for the Home

"Suzzett's Fabric Blog"



Free Pattern with every purchase!




APQ 1 Million
Pillowcase Challenge
Learn More Here!

Rejoice in the Lord always: and again I say, Rejoice.



Welcome to SuzzettsFabric.com.

Click HERE to see all fabric by Manufacture or fabric type.


Category links can also be found on the left of the screen.

The Product Search field is located at the top of each screen or you canto search for a product by fabric collection name, designer name, fabric color or fabric product code.



I have documented a few hints for creating the Starry Night Christmas Wreath and Christmas Tree Wall-hangings.

Just click HERE to open the free document.

You determine the size and style of the wall-hanging.

All the fabric for the Starry Night Christmas fabric can be found

HERE.

New fabric

is always arriving to our country quilt shop. We now have over 2000 bolts of fabric and almost as many precuts.

We are located just outside of Italy, Texas approximately 40 miles south of Dallas. Google map and directions are available on the

About Us Link. Shop hours are 9:00 to 3:00 Monday through Friday and Saturdays by appointment. Please call ahead.



Registration to participate in the Quilter's Retreat Block of the Month is now open. The registration fee is is $25.00. You need to choose from the drop down menu box the size of quilt you would like to create.

The lap size quilt is 52 by 83 inches while the queen size quilt measures 96 by 96 inches. The Quilter's Retreat Block of the Month is an 8 month program. Click the Quilter's Retreat Block of the Month information sheet below to register and learn more about the program.

Quilter's Dessert!

from Border Creek Station is now available as a quilt kit since the Mystery Program is now completed!

Watch for WEEKLY Specials!

Check out Suzzett's Fabric Blog for ideas on what to do with the Joy Christmas Panel.



I have created a

Facebook page that will let you know what is happening in the shop.
Be sure to click the follow button to follow Suzzett's Fabric and get the updates.





Sign up for Newsletter

Newsletter participants are automatically eligible for the monthly drawing for a bundle of fabric.

Orion Star Kit uses Marbles from Moda. The picture of the fabric in the kit will vary only slightly with each kit.

You can watch the how to video on the

AdornIt Website Video link

to see how to make this fun pillow.

Click the AdornIt picture below to see what AdornIt fabric is in stock.

Shoppers be sure and check out all of the sweet treats in

Suzzett's Moda Bake Shop. Jelly Rolls

|

Charm Packs

|

Layer Cakes

| <!—ENTRY END -->

Honey Buns

|

Turnovers

|

Fat Quarter Bundles

|

Check back weekly to see new specials noted in Red on the left or above.


To use a promotion code, click the product picture and enter the promotion code into the promotion code field located below the product picture BEFORE selecting fabric yardage from the drop down menu and clicking "add to cart."